The dentists at Penticton Dental Centre offer the Bioclear Method, a minimally invasive approach for treatment of dental 'black triangles' and other cosmetic issues.
Tired of those dark areas between teeth? We've got a solution
The Bioclear method is an advanced way to handle esthetic problems using direct filling materials
The process involves filling in the gaps between the teeth with carefully placed, highly polished composite resin.
The BioClear method is used to treat black triangles as well as spacing in teeth, dark or chipped edges, and discolorations or misalignments. The advantages of Bioclear:
 the process is conservative to your teeth because no, or minimal tooth is actually removed
 the Bioclear fillings are placed directly on your teeth in one visit
 the materials are highly esthetic but also can be repaired or re-polished if needed
 because there is no lab involved, the cost of the treatment is much less than for crowns or veneers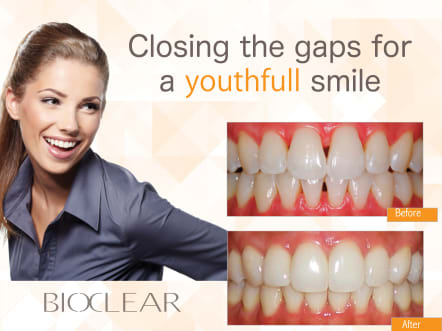 - Dentistry by Dr. David Clark
Dr. Irvine is the Penticton Dental Bioclear specialist, and accepts referrals for this type of treatment. Contact us today for a no-charge Bioclear consultation!