Invisalign® clear custom aligners allow you to undergo orthodontic treatment without anyone knowing, and without the hassle of wires and brackets associated with traditional braces.
What is Invisalign?
Invisalign is a modern, convenient approach to orthodontic treatment. Using a comfortable, smooth series of clear plastic aligners created just for you, Invisalign straightens your teeth just like metal braces do, without the hassle and aesthetics of wires and brackets.
Invisalign aligners gently and gradually move your teeth into the correct positions, based on specific movements planned out for you by your dentist. Every other week or so, you simply pop in the next set of aligners in the series, until your treatment is complete.
If you think Invisalign might be the right choice for you, get in touch with the Penticton Dental Centre team today for a complimentary orthodontics consultation.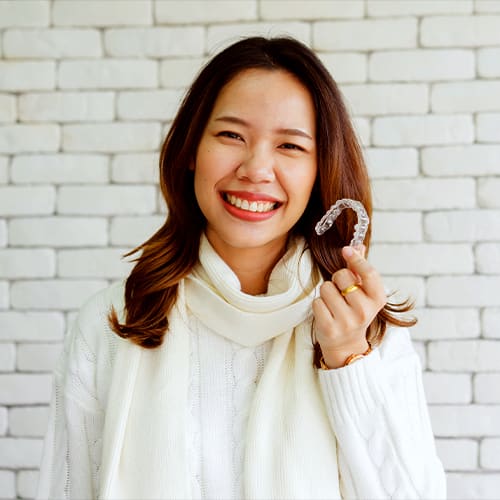 Virtually Invisible Orthodontic Treatment
One of the most significant benefits of Invisalign over traditional braces is that the aligners are virtually invisible, making in nearly impossible for others to tell that you're undergoing orthodontic treatment. This makes Invisalign a great choice for adult who want to maintain a professional appearance in the workplace, or for teens teens who are concerned about the aesthetics of braces.
Removable Aligners for Your Convenience
Invisalign aligners are also completely removable. While it's still important to leave them in most of the time, to ensure that your orthodontic treatment goes according to plan, you can remove them to eat, brush, and floss. That means you can still eat all the foods you normally do, and your brushing and flossing routine can stay the same, too.